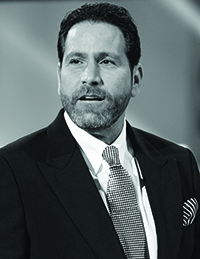 Tickets are available now on UnFranchise.com!
Market America is excited to announce that President and COO of Market America Worldwide Marc Ashley will be a special featured speaker at the 2023 Chinese Boot Camp that will take place June 16–18 in Las Vegas, Nevada. Click here to purchase your tickets now!
Chinese Boot Camp — the only U.S.-based event that focuses on comprehensive training in Chinese — provides invaluable training about the UnFranchise® Business, including the Basic 5 and the practices and principles that UnFranchise Owners should follow to achieve success. You'll learn from and be inspired by powerful presentations by field leaders, successful UnFranchise Owners and special guests, who will share their expertise and provide you with training, tips and inspiration to apply in your entrepreneurial journey.
There will be Chinese to English translation on site!
Get Your Tickets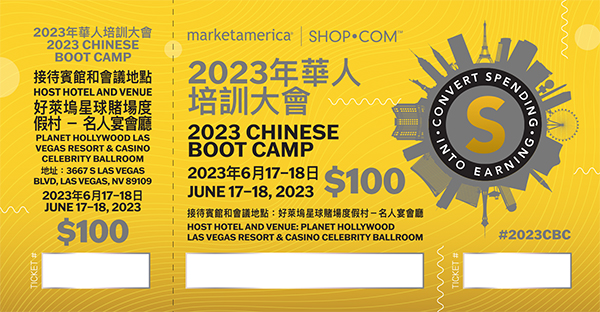 Planned training topics include:*
Setting goals and your action plan.
Growing your business through powerful
tools like Trial-Sized Marketing, the Home
Shopping List and more.
Product information and demonstrations.
Duplication and the ABC Pattern.
Importance of GMTSS events.
Qualifying and requalifying as a Master UnFranchise Owner.
Leadership and team building.
The entrepreneurial mindset.
And more!
The event will be held in the Celebrity Ballroom at Planet Hollywood Resort and Casino, which is offering rooms at a discounted rate of US$115.00 per night and no resort fee. Click here to make your reservation, or call the reservation center at (866) 317-1829.
Book your room by May 18 to guarantee the discounted rate.
Tentative agenda:*
Friday, June 16: Registration, 4:00 – 8:00 p.m.
Saturday, June 17: General Session, 9:00 a.m. – 5:30 p.m.
Sunday, June 18: General Session, 9:00 a.m. – 5:30 p.m.
We look forward to seeing you at 2023 Chinese Boot Camp!
Market America 2023 Chinese Boot Camp
Date: June 16–18
Venue: Celebrity Ballroom, Planet Hollywood Resort and Casino, Las Vegas, Nevada
Tickets:
Rooms: Click here by May 18 to book at US$115.00 per night with no resort fee, or call (866) 317-1829