If you don't already know, qualifying for the Shopping Annuity Bonus Program (SABP) has its advantages and in this case, it involves BV and IBV.
The SABP rewards those UFOs who have gone the extra mile to convert their spending into earning and their numbers prove it. For example. by hitting the SABP, you will receive higher residual income checks in a faster amount of time than a regular UFO, which is all to your benefit. Qualifying for the SABP also leads to increased BV and IBV as well.
The Shopping Annuity is so fundamental to this company's success that it is of the utmost importance to have as many UnFranchise Owners as possible to hit the SABP each quarter. To reward UFOs for hitting the SABP and motivate more to qualify each quarter, bonus BV and IBV will be given out.
We are pleased to announce that bonus BV and IBV for the Shopping Annuity Bonus Program Quarter 1 2017 (Jan. 1 – March 31) will be awarded beginning the week of July 10.
This is just another reason why JR preaches the importance of reaching 50,000 Shopping Annuity Master Members (SAMM). The more master members, the more households the Shopping Annuity reaches, which means the global takeover is in full effect!
Here is an excerpt from the official announcement in UnFranchise News.
The online Shopping Annuity Assessment is designed to help you see exactly how your current spending habits can fund and maximize your own Shopping Annuity. The Shopping Annuity Assessment is being updated and everyone will need to complete or update their PRIMARY assessment within Quarter 3, 2017 (updating prior to July 1 will not count) as one of the criteria for that quarter. You will find the assessment at your UnFranchise Business Account > My Account > Shopping Annuity > Shopping Annuity Assessment.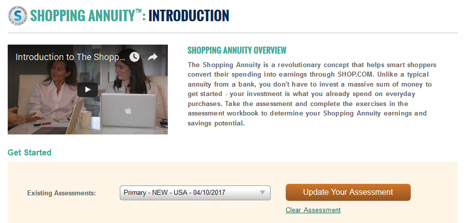 The award for completing the SABP is a personal bonus calculated as 20% of the BV and IBV generated from your UnFranchise Business Account, and credited to your UnFranchise ID during the respective quarter (Q1 2017): Click here for details. You have full control of the amount of your bonus. You can verify your BV and IBV award amount by looking at your SABP report for Q1 2017.
Recipients of the award have the ability to place the BV and IBV where they want in their organizations, based upon the current BV and IBV placement regulations: original Business Development Centers (BCCs 001, 002, and 003) of your personally sponsored business partners who are on UnFranchise AutoShip (status N, T, or W) and exercising the monthly accrual option. We encourage you to place the BV and IBV in BDCs that are also meeting the SABP criteria, but this is not required. Beginning July 1 you will no longer be able to place SABP Bonus volume or regular order volume in BDCs of UFOs who are not personally sponsored. Please check your Auto Placement and your AutoShip Excess Volume Placement settings to be sure that you have everything set up to go into your personally sponsored partners' BDCs.
A weekly email will be sent to each qualifier for four consecutive weeks starting the week of July 10, enabling each qualifier to place their awarded BV and IBV within their organization.
As long as you complete the SABP, any excess Partner Store purchases (PPC and PC) and personal BV/IBV will roll over to help you complete the next quarter SABP. This credit can roll over up to four consecutive quarters! You can track how much rollover credit you have and how old it is by clicking "View Qualified Orders" in your SABP Report.

The SABP is an economic stimulus for the most lucrative compensation plan ever created, the MPCP. The real winners are the UnFranchise Owners who duplicate their efforts, satisfying the criteria within their organizations. Think about it: the more UnFranchise Owners who qualify for the SABP, the more BV and IBV that is generated and gets awarded. So, accumulation of BV and IBV exponentially increases when more UnFranchise Owners qualify!   
Below are specific details regarding the bonuses for the SABP.
Extra Bonuses to the Shopping Annuity Bonus Program
1. If you qualify for the SABP, you will also automatically earn an additional 50 BV and 25 IBV for each UFO who selected you as their SABP Partner and qualifies as well.

2. In addition, if you qualify for the SABP and have 10 UFOs in the left leg and 10 in the right leg of a BDC who all qualify for the bonus program, that BDC will be eligible to earn an additional US$600.00* management bonus in the IBV compensation plan (same rules as the BV management bonus). This will start on the qualifying week ending July 7 (pay date July 21) and end the qualifying week ending Sept. 22 (pay date Oct. 6). This bonus is per BDC, so multiple BDCs may be eligible for the IBV bonus.
Note: Criteria for SABP BV and IBV Accrual
To be qualified to accrue awarded bonus BV and IBV within your line of sponsorship, you must have satisfied the SABP criteria for the respective quarter.
To review the criteria for the SABP, simply log in to your UnFranchise Business Account > My Organization > Reports > Management and click the "Shopping Annuity Bonus Program Report."