When it comes to protein powders, whey and casein are racking up close to $5 billion in annual sales. But, if you're lactose intolerance or eat a plant-based diet, those just aren't going to cut it! If you've been looking for a plant-based protein supplement and are feeling a little lost in the vast mix of plant-based proteins, we've got all the information on why pea and rice protein should be the next thing on your shelf.


Pea and Rice Proteins
Protein powders have been popular for some time with everyone from professional and recreational athletes to those who just need to supplement a healthy diet. But, not everyone can enjoy the commonly used milk-based options. When it comes to plant-based protein alternatives, soy is a popular but less optimal alternative, especially for men. Of course, there are other alternatives such as hemp or supplements like beef and collagen protein but the prices on these more obscure options add up fast!
So, what now? Rice + peas, please!
The Benefits:
Source of Complete Proteins 
Both pea and rice proteins are celebrated for being complete protein sources which means that they contain all 9 essential amino acids:
Leucine
Isoleucine
Lysine
Histidine
Methionine
Phenylalanine
Threonine
Tryptophan
Valine
Of course, having pea and rice protein together is much better than having one on its own. See, pea protein is low in the amino acids cysteine and methionine but it is high in lysine. This makes it a perfect match for rice protein which is low in lysine, but high in cysteine and methionine!
A Gluten-Free + Allergen-Free Blend
One of the perks of a pea and rice protein combo is that you know you're getting a dairy-free product which makes it great for those who are eliminating animal byproducts from their diets at a lower price than options such as collagen peptides or bone broth. But, did you know that both pea and rice protein are also allergy-friendly and gluten-free as well?
Just because you have a sensitive digestive system doesn't mean you want to spend $50 on a super-clean, specialty store powder that tastes like chalk (or worse!). With the increasing availability of delicious pea and rice protein blends, you can enjoy your post-workout snack knowing it is easily digestible and has little risk of an allergic response!
Nutritionally Balanced
On top of being the cheaper, easy-to-digest, and allergen-friendly, pea and rice protein blends also naturally offer an impressive number of nutrients to include:
Vitamin A
Iron
Vitamin C
Calcium
Vitamin K
Fiber
Vitamin D
Both pack about 15-22 grams of protein per 100-calorie serving which makes them great low-calorie options for those trying to trim and tone in time for summer!
TLS® Plant-Based Protein Shake
The newest TLS® Shake addition to the program was our Plant-Based Shake which combined pea and rice protein to give you the balanced, delicious, protein-packed snack you needed to fit your lifestyle!
Available in a tasty vanilla flavor, each serving delivers the ideal balance of carbohydrates, fats, and protein for optimal muscle repair and recover. This nutritious shake can be used in conjunction with your TLS® Weight Loss Solution Program or just as quick snack to keep you full and satisfied between meals!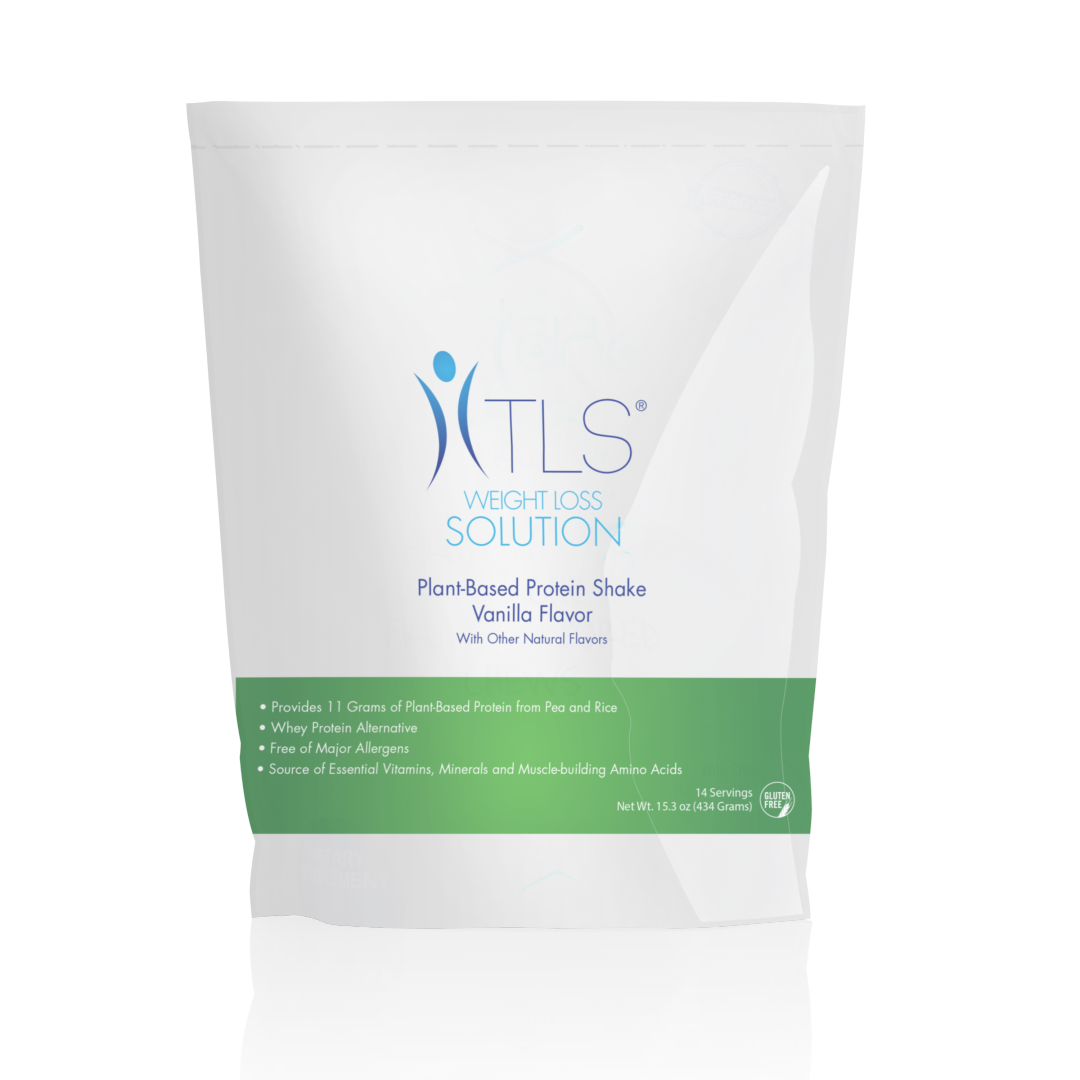 UnFranchise Owners click the photo above to order your TLS® Plant-Based Shake today!
Preferred Customers click here.