By Jason Pelland, Director of maWebCenters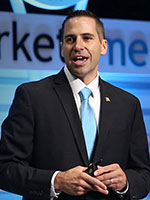 There is so much excitement taking place in the field globally. Leaders are travelling to various regions to build and support growth by conducting UnFranchise Business Presentations (UBPs), Home Business Presentations (HBPs) and trainings. So, how can you maximize the impact of these events from a distance?
You must know where the growth is taking place and where corporate and leadership support exists. Market America Worldwide promotes where the Corporate Team and field leaders conduct business overviews and trainings.
Recently in South Florida, UBPs have been conducted featuring Loren Ridinger, Marc Ashley and Andrew Weissman. UBPs were also conducted in Greensboro, North Carolina, featuring Marc Ashley, Steve Ashley, Scott Grogan and Big Al Yentsch. We have product trainings being conducted by Dr. Deedra Mason and Dr. Tamara Weinstein in Texas, Pennsylvania and Connecticut. There are UBPs and HBPs taking place in Arizona, Wisconsin, South Carolina, North Carolina and Texas. In Sydney and Perth, Australia, Kevin Buckman conducted corings, HBPs and UBPs. In the United Kingdom, Malcolm Tucker conducted an in-person Basic 5 and broadcasted Don Martin, Bonnie Philo and Aleksandra Cummings to those attendees. So many other great events are taking place worldwide. It is time for all UnFranchise Owners to leverage these events to grow their businesses. So, take action and join the fun!
It is important that you identify possibilities and prospects in these areas and use the power referral networking approach to cross-pollinate and build from a distance. In addition to creating your own possibilities list and conducting your meetings locally and on Zoom, you are encouraged to start to target any area with an upcoming corporate event or business-building activity. Where are the events? Check your GMTSS, regional websites and various area social media channels.
Create a possibilities list for these geographic locations. Conduct a team coring or call to develop a list of potential candidates. Use a memory jogger, such as "who do you know in _________?" Use your contact lists in your phone and email address book.
Screen through your social media channels to identify people you already know who have connections to the area:

Search Facebook for "my friends who live in _________" and "my friends from _________."
Search Twitter for the location and use the search filter "people you follow."
Check your professional connections on LinkedIn.
Review your groups, organizations and associations for potential contacts on any or all networks.
Have your teams do the same exercises!

Reach out to your existing customer base and close contacts to determine if they may know someone in the area you are expanding. For instance, you might say, "I was hoping you could help me out. I am expanding my business into _________, and I'm curious whether you have any contacts there with who you could introduce me in the hopes that they may be able to connect me to someone in that area."
Use the power referral networking approach to either have people evaluate the business or refer you to contacts they know in the area that may be able to evaluate the business. For example, "Hi _________. A mutual friend/acquaintance recommended I contact you. I was telling _________ about a business project, and your name came up as someone who is sharp, business-savvy and well-connected. I understand you may or may not be looking for anything right now. But _________ was confident you could help me out and perhaps lead me in the right direction. Could we get on a Zoom for about 15 minutes, and I can provide an overview to determine if you may know some people I could interview? If you can help direct me to the right candidate, there may be something mutually beneficial for the referral."
Build a relationship using a phone call, video call, or Zoom, and and schedule them to see the first part of the business. Use three-way calling or Zoom to introduce them to other partners or UnFranchise Owners to build credibility.
Introduce them to the host or featured speaker of an upcoming live event as a way to add value and encourage their attendance to evaluate the business opportunity.
Plug them in to the events taking place in that area.
Follow up with them to continue their evaluation process: Let them try a product, get their questions answered, have them introduce you to some of their contacts to evaluate the business, sell a ticket to an upcoming event or training, or perhaps schedule an event for them for their contacts to attend.
Continue the ABC Pattern and stay connected to other UnFranchise Owners building in the same geographic area. Leverage Zoom meetings, in-person events and the GMTSS to further develop your budding organization from a distance.
Be willing to support the areas you are growing. Become a featured speaker on a local Zoom session or online coring. Conduct online trainings for their area. Be active in their local Facebook groups. Travel to the area to conduct HBPs, product events and trainings while building relationships with your team from a distance. This is a perfect opportunity right now for every UnFranchise Owner to take advantage of the in-person events happening worldwide while also utilizing online events. This hybrid approach to growing your business will create incredible momentum in 2023. And, of course, the most invaluable in-person event you can attend with your teammates and prospects is the upcoming Market America Worldwide | SHOP.COM Leadership School 2023, March 2–4, in Hollywood, Florida. Don't delay and waste an opportunity to get more people to attend with you.