Spring is the perfect time to take on your next gardening project! Need a little help with your green thumb? We've dug up a couple foolproof tips for you.
New to gardening? Start with these 10 easy steps from Better Homes & Gardens and plant the perfect spring Garden: 
1. Get an idea
2. Pick a place
3. Clear the ground
4. Improve the soil
5. Dig or don't
6. Pick your plants
7. Put them in the ground
8. Water
9. Mulch
10. Keep it up
In addition to these 10 steps, we recommend grabbing a bottle or two of each of these products. Your garden will thank you later: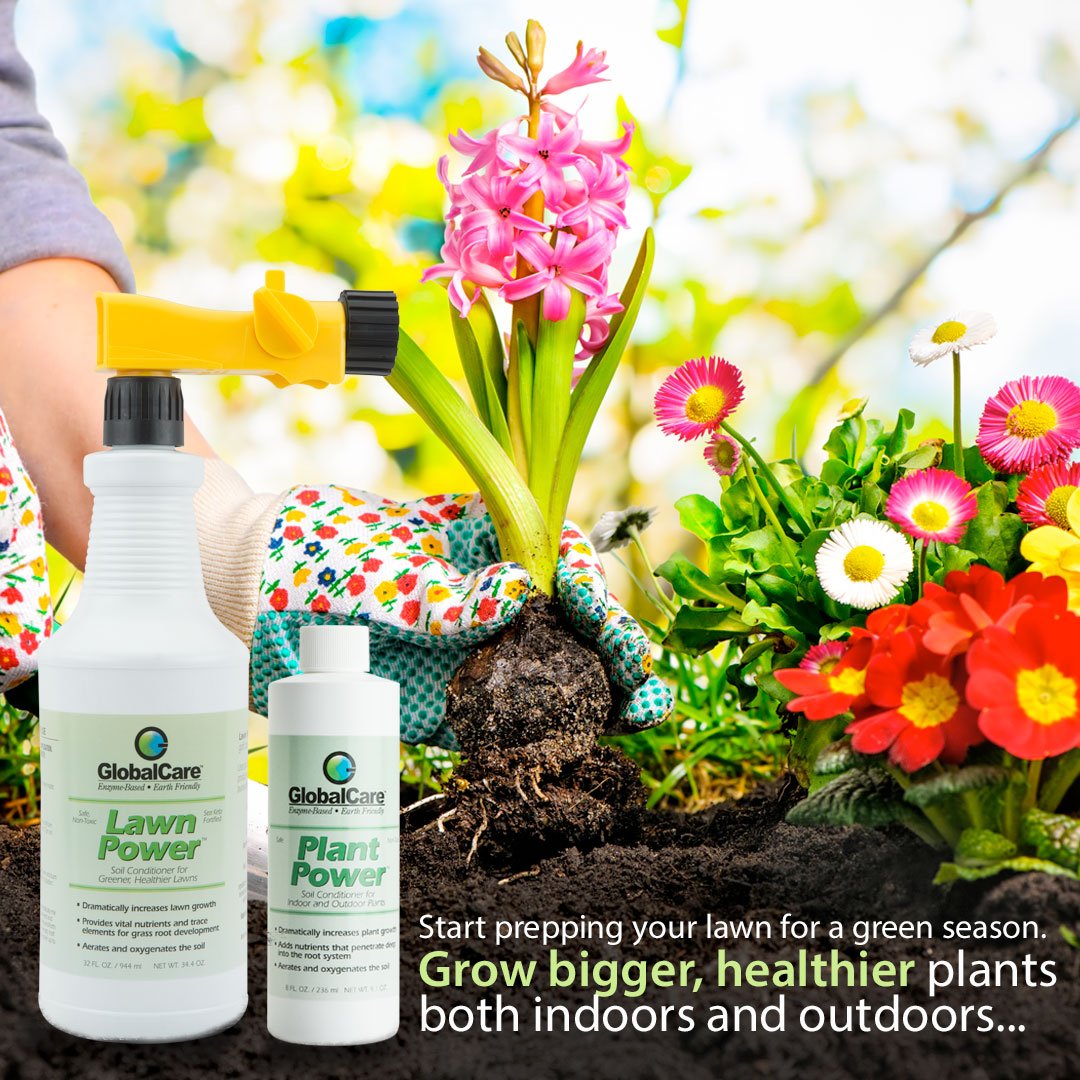 UnFranchise Owners, shop this photo. Prefferred Customers, shop using the links below!
I have always had trouble growing grass in my yard. A few months ago I tried out this product and it worked so well. All I did was attach the bottle to a garden hose then sprayed it evenly on the grass. I then put down fertilizer and grass seed then hay and the grass grew within three weeks. I would absolutely recommend this product to any customer who has trouble growing grass or keeping the grass thick. – Naomi S.

We decided to try Plant Power in our greenhouse that we use to grow greens, snap peas, onions, etc. Wow! I have to say that the leading brand doesn't hold a candle to Plant Power. It works great and our greenhouse is overrun with vegetables. – Brian Nott
GlobalCare Plant Power is not a fertilizer or a plant nutrient. Rather, its unique enzyme formula reacts with soil organic matter to release and activate the many nutrients in the soil. Soil imbalances are caused by a lack of organic materials and enzymes. GlobalCare Plant Power helps improve soil's capacity to retain nutrient cations (calcium, magnesium, and potassium), and helps break bonds to transform ammonium to nitrate and phosphorus into phosphate-forms usable by plants.
Global Care Lawn Power is a safe, non-toxic concentrated solution of naturally fermented enzymes which help decompose complex organic material in soil to simple nutrients that plants can use. Urea nitrogen is also included in the formulation to encourage beautiful, green, thick and uniform grass growth. Lawn Power helps loosen the soil, making vital nutrients and trace elements available to the grass root system, allowing healthier development of the root system. Lawns treated with specific concentrations of Lawn Power formula display an increase in healthy lawn growth without the need for adding other chemical products such as fertilizers.