We are happy to announce that every UnFranchise Owner has made the Nice List this year! So what is your reward for being on the Nice List? Your reward is 20% off your SHOP.COM OneCart® order with Masterpass™.
SHOP.COM has partnered with Masterpass to give customers a holiday discount. Masterpass by Mastercard is a fast, secure, and simple way to pay for all of your purchases. It is a digital wallet that simplifies and speeds up the checkout process by creating one account for in-store, in-app, and online purchases.
OneCart stores allow UnFranchise Owners to purchase everything they want from a particular merchant in one simple order without leaving the main website. If you use Masterpass at checkout, you will be eligible for some huge savings!
From 11/20/17 thru 1/03/18, Pay with Masterpass and get 20% off your SHOP•COM OneCart® order on qualifying purchases.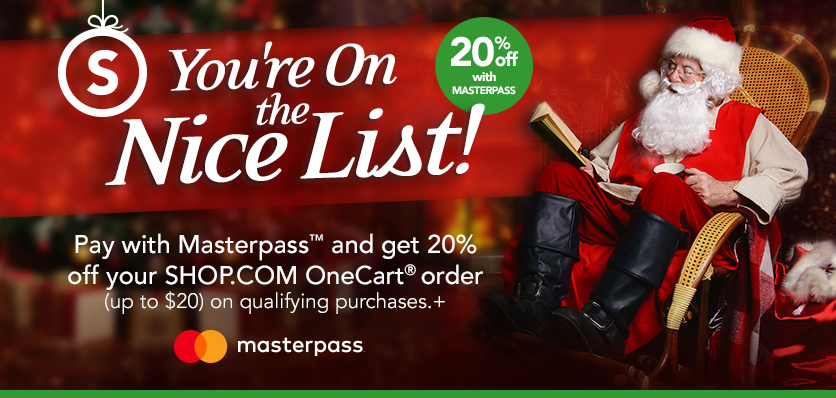 In order to take advantage of this holiday promotion, you need to have a Masterpass account. However, it is very simple to sign up. It should only take you a few clicks and you'll be good to go!
Make sure to visit the landing page to take advantage of this promotion: Pay With Masterpass This Holiday.

+Offer begins 11/20/2017 at 12:00pm Eastern Standard Time (EST) and ends 01/03/2018 at 5:00pm Eastern Standard Time (EST). Limited time offer. SHOP.COM has the right to change or cancel this offer. Limit one use per person per 24 hours, and one purchase per debit or credit card per 24 hours. Offer not valid for Market America UnFranchise® Owners on Market America-branded products. Must use a new or existing Masterpass account, not just use a Mastercard® at checkout to receive discount. Terms & conditions apply.

Click HERE for additional terms.