Recently announced for the Chrome browser, the new ShopBuddy® deal and coupon extension is now also available for Firefox. ShopBuddy has a fresh new look and features we know you and your customers will love that will help save time and money.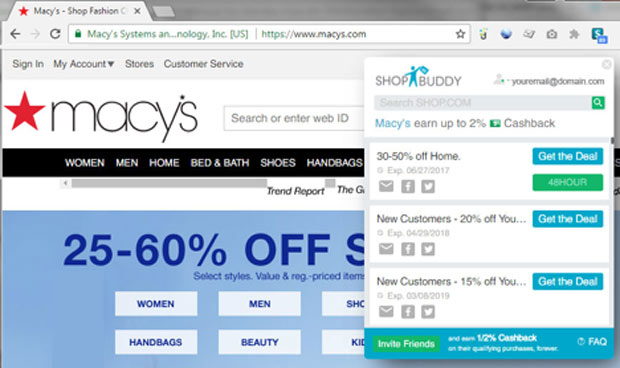 What's new:
Coupon Auto Applier: The Coupon Auto Applier will save you time by auto-running through all available coupons to save you money on products you buy that qualify for discounts. For the Coupon Auto Applier to be the most beneficial, it has been set up for merchants who run a lot of coupon codes throughout the year, such as macys.com. ShopBuddy will alert you that coupons are available and run them for you at the click of a button to find savings. Try it out!
Major search engines show the number of deals and the available Cashback percentage. Works in Google, Yahoo and MSN Bing search engines.
Animated ShopBuddy icon alerts you to whether or not ShopBuddy is active. ShopBuddy will flash and show a red icon in the browser bar when not active, and a blue icon when active.
Sharing a deal couldn't be easier: Share via email, Facebook and Twitter.
"Search now" offers type-ahead suggestions, the same ones seen on SHOP.COM.
Email address and Quick Links. Toggle between the list of deals and the Quick Links in ShopBuddy by clicking the "v" next to your email address to go back and forth, or click "close" to see the deals.
For security purposes, your Cashback balance has been removed and replaced with a Quick Link to "My Account" on SHOP.COM.
Coming soon: ShopBuddy for Edge, and we will be rolling out the new design soon for Canada.
Don't Have ShopBuddy? Download it now and start saving today.