The beauty brands are taking over MAIC with all of their exciting new products. We not only have four new Royal Spa® products to share with you all, we are also revealing the new rebrand!! Keep reading to see the new Royal Spa packaging and learn more about their amazing new products.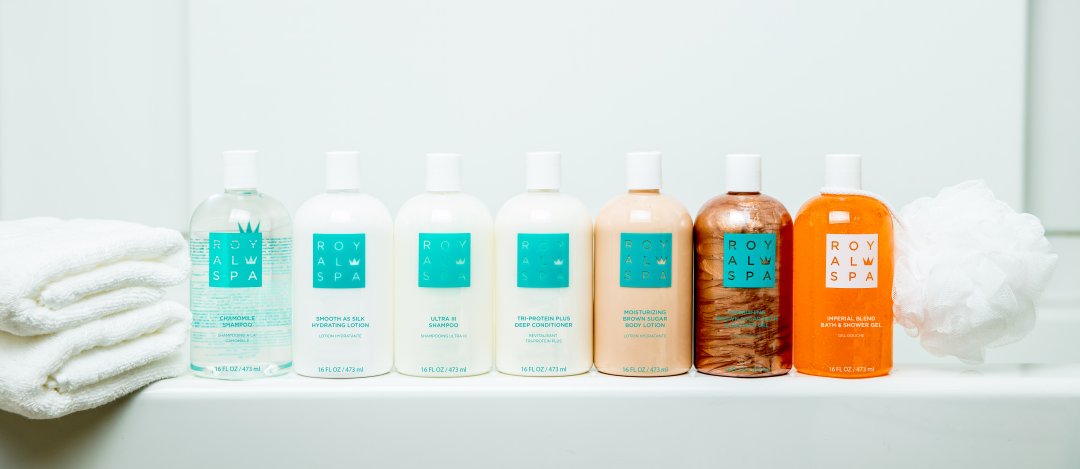 How much do you love the new packaging? We thought it was time to give Royal Spa the makeover it so deserved. Our goal was to keep it simple and classic for a fresh new look that makes you feel as if you were at the spa.
Take the time to coat yourself with this delicious, soothing scrub made from brown sugar. Treat yourself to the caramel hues and a sugary scent of an enriched formula that features the exfoliating elements of brown sugar crystals and walnut shell powder, and moisture-preserving humectants. After a long day, replenish your skin's softness with the Royal Spa Foaming Brown Sugar Body Scrub.
Benefits
Brown sugar crystals gently polish away dull, rough skin
Walnut shell powder exfoliates to soften skin
Foaming action cleanses the skin of dirt and impurities
Leaves skin looking smooth and refreshed
Pleasant, subtle scent of brown sugar
Condition your skin with an ultra-nourishing lotion formulated with brown sugar, nature's moisturizer.  Your skin is left feeling soft and smooth to touch, with a sweet scent that lingers throughout the day. Treat your skin to luxury with the Royal Spa Moisturizing Brown Sugar Body Lotion.
Benefits
Moisturizes the body for smoother-feeling skin
Conditions to relieve dry skin
Leaves skin delicately scented with brown sugar
Bathe your skin in the sweet scent of brown sugar with this foaming shower gel. Infused with mica, this caramelized body cleanser leaves skin feeling soft and conditioned throughout the day. Refresh your skin with the Royal Spa Nourishing Brown Sugar Bath & Shower Gel.
Benefits
Nourishing lather cleanses the body
Does not dry out skin like bar soap
Leaves skin delicately scented with brown sugar
Give your shampoo a break and let this unique scrub cleanse and balance your scalp. Formulated with salt granules, this exfoliating formula soothes the scalp by helping to eliminate product buildup and dead skin. Revitalize your scalp with Royal Spa Scalp Revival Scrub.
Benefits
Revitalizing scrub cleanses to balance the scalp
Salt granules exfoliate to remove product buildup and dead skin
Leaves the scalp feeling smoother