UnFranchise® Owners (UFOs) can already manage their customers on UnFranchise.com by organizing them by filters including AutoShip, EZ Registration, new customers within the past seven days, and more. Now, Market America has redesigned the experience by adding new pages and features to give UFOs even more insights on their customers as well as by adding new marketing tools for Preferred Customers.
Check out your new dashboard, plus a redesign of the Manage Customers page and a new interface for creating and sending coupons.
"Customer Insights" Dashboard: Market America has developed a new personalized dashboard on UnFranchise.com that will provide real-time, personalized, in-depth analysis of your customer's activities on your SHOP.COM and brand mini sites. This will help you understand the habits and trends of your customers, who your important customers are and which ones to make the focus of your marketing efforts, as well as better grasp the overall success of your business. You'll be able to review: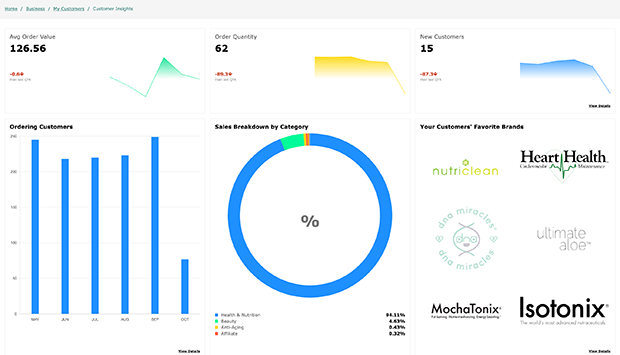 Average Order Value: the average order value of your sales within the current quarter compared to previous quarters.
Order Quantity: the total order number of products sold during the current quarter compared to previous quarters.
New Customers: the total number of new customers during the current quarter compared to previous quarters.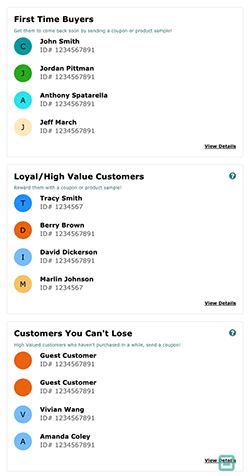 Ordering Customers: how many of your customers are actually ordering from you on a monthly basis.
Sales Breakdown by Category: a breakdown of sales by categories such as Health & Nutrition, Cosmetics, etc.
First-Time Buyers: a list of first-time buyers you can reach out and market to. Reaching out to first time buyers is a great way not only to build your business in the short term, but also build a lasting relationship with your customers by periodically sending them coupons and sample products.
Loyal Customers: your most consistent customers who have a high monetary value for you and purchase frequently. These are your most important customers, who are open to trying samples; you can also reward them for being loyal with periodic coupons so they remain loyal.
Customers You Can't Lose: high-value customers who have not purchased in a while. Time to get these types of customers back in the game! Send them coupons to get them buying frequently from you again.
Customers' Favorite brands: a snapshot of what brands are the most popular among your customers. Use this information to help you target customers to try other products within a brand.
Time to Buy Again: information on the top products that will soon need to be reordered based on customer purchases. This information is important to help track when it's time for your customers to buy a specific product again, or to motivate them to buy again with a coupon.
Your Customers' Favorite Store: which Partner Store is the most popular among your customers.
Your Customers' Coupons: more in-depth information on the UnFranchise Coupons, which you have never had before, such as date sent, coupon percentage and whether a coupon was redeemed.
New Coupon page: The new Coupon page on UnFranchise.com makes it quicker and easier to send customer coupons after you have selected your target customers. The new tabular look and feel lets you access the coupons you wish to create, and review to whom you sent coupons and their duration.
New Manage Customer page: We've redesigned the Manage Customer page on UnFranchise.com to provide a more robust look and feel. It now gives you new features and filters to help you better understand customer trends and buying habits, as well as simplify your marketing efforts.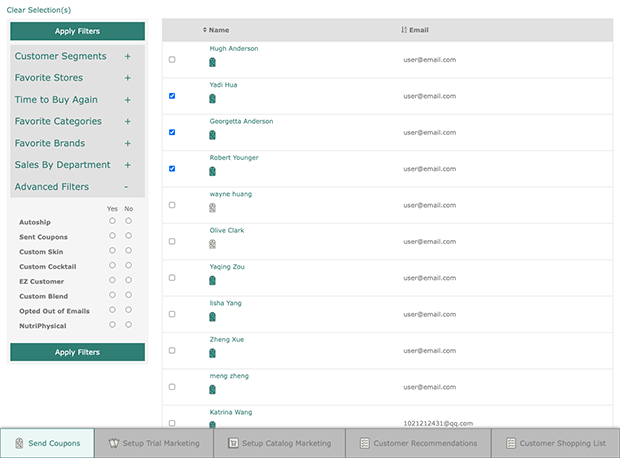 This is only the beginning!  We will continue to develop more insights around your customers to help simplify marketing and retailing to your customers.