Valentine's Day is almost here! Chocolate is lining the front of every store & red hearts are taking over, but we think you can make something more special than a store-bought,heart-shaped treat. Try making one of these Valentine's Day recipes instead!

Valentine's Day Desserts
Brownie Cupcakes + Peanut Butter Frosting
10 bonus points if you've got Valentine's Day serveware & decorative toothpicks, 20 if you've got the skills to ice some hearts on top!
Serves: Makes 12 servings
Prep Time: 30 minutes
Ingredients: 
Prep:
Cupcakes:
Preheat oven to 350° F.

Line 12 muffin cups with muffin papers or coating with nonstick cooking spray

Place: chickpeas, eggs, ⅓ cup maple syrup, cocoa powder, baking soda, applesauce, and extract in blender or food processor.

Blend until smooth.

Divide batter among 12 prepared muffin cups.

Top each cupcake with about four chocolate chips; push into batter.

Bake for 17 to 20 minutes, or until the toothpick inserted in center comes out clean.

Cool completely and enjoy!
Frosting:
While cupcakes are baking, whip peanut butter in a medium bowl.
Beat on medium speed for 1 to 2 minutes, or until creamy.
Add almond milk + beat until well blended.
Add TLS Shake powder + beat until well blended, scraping bowl occasionally.
Slowly add remaining ¼ cup maple syrup while beating on medium speed. (If frosting is too stiff, add 1 to 2 Tbsp. additional unsweetened non-dairy milk.)
Once cupcakes are cool, evenly spread with frosting.
Vanilla Cookie Dough Dip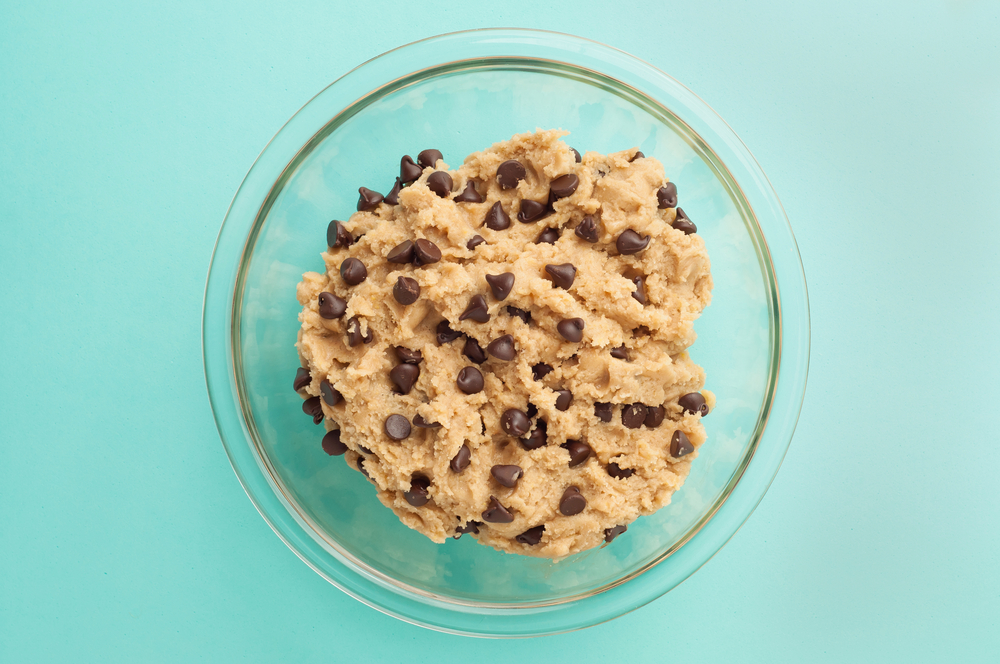 For the few who aren't chocolate-obsessed, this is one of our favorite takes on edible cookie dough! Pair it with strawberries or another one of your favorite fruits, and you've got a high-protein dessert for two. Plus, it's gluten-free, paleo, plant-based friendly, and ready in 5 minutes!
Ingredients:
Prep:
In a medium bowl, whisk together the protein, coconut flour, and sea salt
Add in the applesauce, almond milk,  and butter extract.
Stir until fluffy and mixed.
Stir in the chocolate chips.
Serve with apples or your favorite fruit right away, or chill in the fridge for 10-15 minutes!
Panna Cotta
This is one of our chocolate, sugar-free Valentine's Day recipes for a way to enjoy a special moment! We love the simplicity & the pop of fruity redness from strawberries or raspberries placed on top. You can always add a touch of sugar by adding a red glaze on top if you'd like!
Ingredients:
Prep:
In a saucepan, combine cream and almond milk over a low flame, making sure not to let it boil.
Add your sweetener and gelatin, stirring with a silicone whisk, then let them dissolve. Again, don't let it boil!
Once everything is an even consistency, remove from heat & add vanilla extract and lemon juice.
Grease 4 ramekins & evenly pour your panna cotta batter into each one.
Cover with plastic wrap and refrigerate for at least 2 hours, preferably overnight.
When ready to serve, wedge a knife along the sides of the sugar-free panna cotta and turn it over onto a plate.
Top with sugar-free raspberry jam and a few fresh raspberries.
Enjoy!