Dear Market America Worldwide | SHOP.COM family,
It is with sad and heavy hearts that we bring you news of the passing of Virginia "Gingie" Keefer. As Senior Executive Field Vice Presidents, she and her husband, Frank, were true pioneers in the UnFranchise® Business, among the first believers to join Founders JR and Loren Ridinger in their quest to create the economy of the future.
The inseparable couple frequently appeared at events to provide business education and motivation, and they were winners of the Jerry Siciliano Award that's given for displaying the utmost belief, loyalty, respect, credibility and love for Market America and the opportunities it brings. The Keefers were long-time members of the Advisory Council, as well as multiple Master UnFranchise Owner (MUFO) qualifiers and Million Dollar Club members.
Aside from her unshakeable dedication to and success in the UnFranchise Business, Gingie was a woman of many other passions. A skilled lifelong skier, at times referred to as "poetry on the slopes," she was also a natural swimmer and springboard diver and played bocce ball, tennis and golf. Gingie was a huge football and baseball fan who had season tickets to the Chicago Cubs and Bears as well as the Baltimore Orioles and Ravens.

Those who knew Gingie know that her effervescent personality and infectious smile lit up any room she entered … but they may not know that in her youth these same qualities made her a successful model, and that she served as an extra in several Hollywood films. Not only that, but she worked as an EMT and ambulance driver. To add to this already stellar list of accomplishments and talents, Gingie also played piano, flute and harp by ear and sang with a voice so lovely that she once performed with the Four Tops in Reno, Nevada.
Gingie read two to three books per week and was a dedicated nature lover and hunter. She was also a gourmet cook — a fact that was not lost on her soulmate and husband, Frank. He said that she was the first woman he'd met who could outcook him and his mother, and on their second date he dressed in formal attire and proposed to Gingie in a hot air balloon. Almost 38 years later, they were a relationship to be envied and one of Market America's pioneer couples.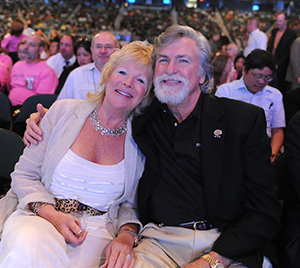 In addition to all of us in the Market America family, Gingie leaves behind her devoted husband, Frank, and the legacy of her loving son, Richard; two stepchildren, Frank and Lucy Keefer; and four grandchildren, Nick and Hunter Klein, Teagon Morison, and Elliot Kolberg. While we will all miss Gingie's presence more than we can express, the ideals of love, respect and success she exemplified will linger to guide and inspire us all.
With love and respect,
The Market America Worldwide | SHOP.COM Corporate Team